Greetings, if you're looking at this, you must be as bored as I was when I uploaded these

I want to apologize for the quality of the pics-- I took them at night... Hey, it was take so-so pictures at night and let you see them, or take no pictures at all.

I intend to post separate topics with more/better pics and more descriptions for at least some of these, at some time... when I get time... and feel like it... yeah-- it's going to be a while

Also, please excuse my corny giddiness... It's late... too late as I'm writing this.

First up, we have a DINO theme helicopter, inspired by the Apache Longbow, it is a lethal option if tranquilizer guns prove ineffective against the dinosaur menace. The dinosaurs are to show the size.
Spoiler:
Next, we have a Utahraptor, standing over her kill. This one has an interesting story behind it, I was supposed to be putting Lego pieces away... but I couldn't resist using those tan plates for a scene... and then the studs were added... and then I realized that a raptor would look great on it with a dino skeleton and some plants.
Spoiler:

CAUTION the following photos contain blood on the carcass of an unidentifiable dinosaur skeleton. It is not intended to be gory or graphic for the sake of violence, it is intended as an animal documentary. (Think Animal Planet) Nevertheless, it does contain blood, viewer discretion is advised.

Spoiler:

If anyone finds it offensive/if it is in violation of the rules, I'll be happy to remove it/have a staff member remove it as I'm going to be inactive in the very near future.[/img]
Next, we have a brave(foolish?) Dino Hunter trying to tranquilize a raptor in a hallway. This was a "spare parts, boredom build"
Spoiler:
Here we have General Grievous. I wish I could take credit for the design... but about 80% of it came off of Brickshelf

I did make a couple of changes though... and yes... he DOES need a bigger cape...
Spoiler:
Here we have a Jurassic Park Jeep... or something more or less like one... My excuse for the lack of Jeep Wrangler accuracy is that "were Jurassic Park to have been filmed using 'futuristic' vehicles, the Jeeps would have looked like this."

And yes, it isn't done yet... I lack some important pieces... The roll bars are only half done (if that) and I'd like to get some red hub caps (I know, I know, they're called "rims" nowadays...

Spoiler:
Here we have a custom Star Wars Starfighter. I can't resist listing a little info about it.

It is intended as an Interceptor for a custom clone squad. It is meant to operate from a yet-to-even-be-so-much-as-thought-about freighter.
It sacrifices armor for the sake of speed and maneuverability, reaching unheard of levels of both. Although it suffers from essentially no armor (the cockpit, reactor, and engines have an extremely thin layer to protect against (if nothing else) small arms fire) it has excellent structural integrity (for all the insane maneuvers it will be doing in dogfights) and low level deflector shields (something seldom seen in CW era fighters) to help keep the pilot alive. It lacks a hyperdrive of any kind, has no room for an astromech droid which makes hyperspace travel impossible without a specially designed, as-yet-to-be-built hyperspace ring. It has decent weaponry, sporting a pair of laser cannons and a pair of proton torpedo tubes (2 torpedoes per tube) Its strength is its incredible speed and maneuverability. However, few pilots can truly make use of this ship as it is extremely difficult to fly. Only Jedi, and the clone pilot of this clone squad (who has heavily enhanced reaction times) can effectively fly this ship.
I wanted a cross between an A-wing, and a Delta 7 Jedi fighter-- I like what I got.
Spoiler:
Next up, another piece of tech for my yet to be built clone squad (I used a couple of my existing clones for size comparison)
A droid who needs a name

He was originally a cargo hauler intended to help move heavy parts in hanger bays. But the squad had a brilliant idea, use the immensely strong frame, improve the power plant, give the droid some new programming/hardware, (IG-86 Sentinel droid, astromech, commando droid, and even some protocol droid parts went into this monster) and strap on enough armor and weapons to classify this thing as a gunship, and viola, they'd increased the squad's firepower by 30-80% (depending on what the squad is carrying) the droid has a heavy repeating blaster cannon, a Z-6 minigun, a grenade launcher, a pair of concussion rifles, two wrist rocket launchers, and a pair of light repeating blasters-- making it lethal to everything from B-1 Battle Droids all the way up to AATs. It's the perfect cover fire laying device, although not stealthy, it is a huge help on most missions.
Spoiler:
I built this Dark BARC Speeder for my Dark ARF Trooper. One word defines it: "stealth" especially on a white background

JK with sensor dampening equipment, muffled engines, and a very difficult to detect heat signature, this is one bike that will get in and out of enemy territory without anyone knowing it was ever there... if it weren't for the scorched battle droids in its wake.
Spoiler:
And finally, I challenged myself with this "What if a Lego Minifigure wanted to take part in a Hasbro Star Wars battle, and win? Well, he'd need a hardsuit... (no, a minifig does not fit inside, just the head on top of the suit) So... I went to good old Brickshelf, researched hard suits, and built one of my own. It is nearly as articulated as most of the Hasbro Star Wars figures that I own. I'm pleased to say that I don't THINK I directly copied anyone with this build, although I must admit that the brilliant joint design (using the nozzle) is not mine, and I was inspired by the work of others. You may also notice that this suit bears a striking resemblance to the droid I showed you earlier... it's actually the other way around

I built this first and then, liking the design so much, I did the droid reusing most of the ideas.

Spoiler:
Well, this concludes the first round of my MOCs for 2012. I'll post more... sometime... probably in 2013...

This is only (roughly) half of what I have to upload... but I got tired of taking photos and cropping... so I went ahead and uploaded this first batch. I hope you enjoyed, and thanks for looking/reading.

Upcoming:
DINO themed, oversized Humvee,
midi scale, custom SW Republic Shuttle class,
a custom Mars Mission Alien fighter,
My custom Star Trek models (first in LDD, no a few have made it into real life)
Custom, rank three, Sentinel Knight, dark variant figs
Backyard Bunker
Modified CW Turbo Tank set
Modified Slave One set
Custom Obi Wan's Delta 7 fighter
Modified Brick Daddy's Lunar Limo
Probably some stuff that I'm forgetting 'cause it's 2:04 in the morning where I liv..... TWO IN THE MORNING?! I need to go to sleep...

Still under construction: (may never happen)
Custom AT-PT (All Terrain-Personal Transport)
Custom armored SUV.
Officially Elzeep





Posts :

1736


Join date

: 2012-07-13


Location :

North Carolina, United States


Lego ID :

dino272727


Humor :

The thing that disturbs me most about LZP is not the fact that we have mutant leanpockets, but that I understand why we have mutant leanpockets



Nice MOCs, Dino!!!!

Seesh! I wish I could find the right parts to build something special for all of you.
Insane & Alive




Posts :

3796


Join date

: 2012-06-23


Lego ID :

Shulk1991


Humor :

Bazinga!



Dino, those MOCs look AWESOME. The helicopter is my favorite, but I like 'em all a LOT. How long did it take to construct the droid, and how did you connect the droid's head to it's body?
Elzeep Psychologist




Posts :

2683


Join date

: 2012-10-08


Location :

Hiding from the zombies


Humor :

*Awkward silence*



Thanks Pred! I'm glad you like them!
Thanks Ninja! I do really like the helicopter too
The droid took about half an hour (I had the design pretty much nailed down from the hardsuit, which probably took 2-3 hours, I lose track of time when I build

)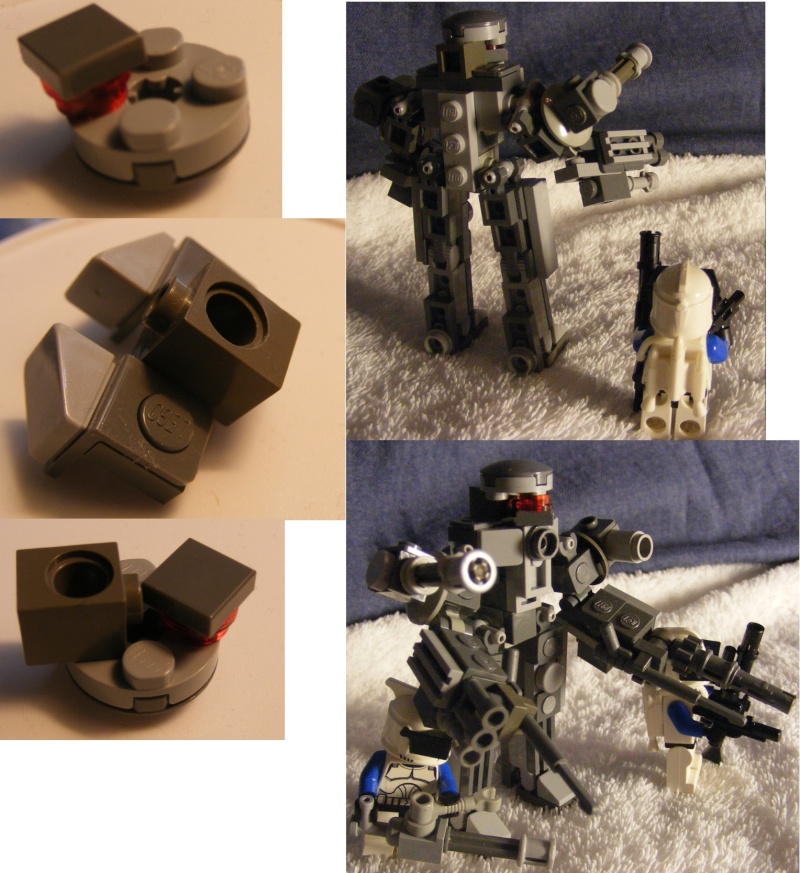 I could never explain that in words only

I hope the pics help

Officially Elzeep





Posts :

1736


Join date

: 2012-07-13


Location :

North Carolina, United States


Lego ID :

dino272727


Humor :

The thing that disturbs me most about LZP is not the fact that we have mutant leanpockets, but that I understand why we have mutant leanpockets



Ah, ok! Yeah, now I see how it's done.

Upload more! I wanna see 'em!

Elzeep Psychologist




Posts :

2683


Join date

: 2012-10-08


Location :

Hiding from the zombies


Humor :

*Awkward silence*



I'll be happy to, just as soon as I can/get time to breathe


Officially Elzeep





Posts :

1736


Join date

: 2012-07-13


Location :

North Carolina, United States


Lego ID :

dino272727


Humor :

The thing that disturbs me most about LZP is not the fact that we have mutant leanpockets, but that I understand why we have mutant leanpockets





Similar topics
---
Permissions in this forum:
You
cannot
reply to topics in this forum